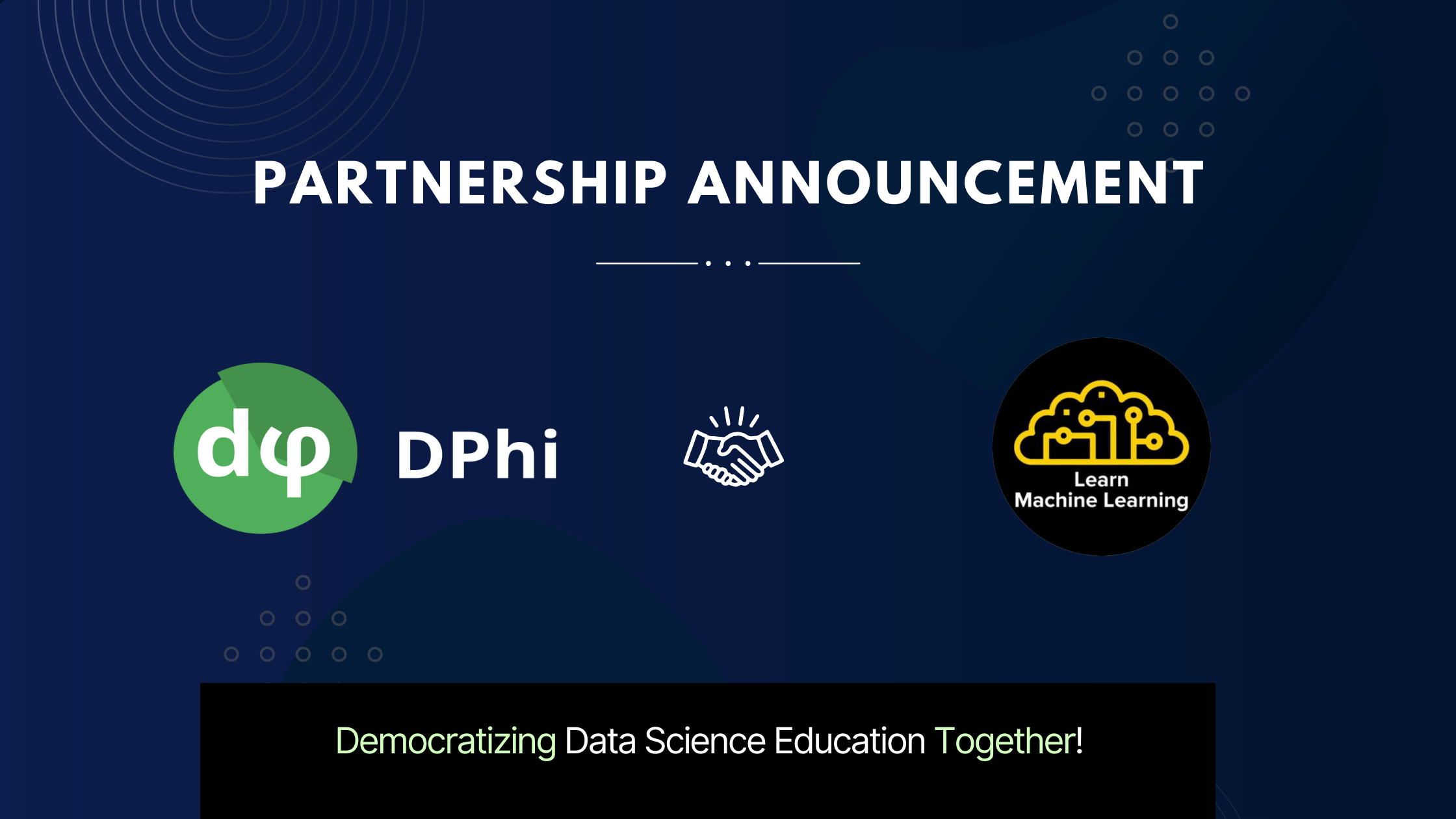 Today, Learn.MachineLearning and DPhi announced a partnership to combine their community and education expertise to make data science education accessible to all.
Learn.MachineLearning is an online ML community that engages its community with byte-sized learning resources. Cumulatively, it has 350,000+ community reach across all the social channels. Based in Europe, DPhi is one of the world's leading AI communities with a vision to educate and build AI for all. Over a period of 2 years, DPhi has built a community of 100K+ AI enthusiasts from 150+ countries. The partnership between Learn.MachineLearning and DPhi will accelerate the shared growth and purpose of enabling high-quality data education for anyone and everyone worldwide.
DPhi collaborates with like-minded organizations to grow its impact and move faster towards its mission. This partnership between DPhi and Learn.MachineLearning marks an iconic step as two rising communities collaborate to make a much bigger impact in the data science community.
"As a community, we believe in learning by sharing. With this collaboration, both teams will aim to work towards a common vision of democratizing Data Science education. We want to reach and educate as many people as possible through this collaboration. We understand that a growing number of learners worldwide are looking for industry-ready data science resources, and they're struggling to find them despite spending thousands of dollars. Connecting these AI enthusiasts with the learning content and structured path provided by DPhi will a great value addition. We're happy to partner with DPhi and looking forward to making a difference together." said Uday Kiran, Founder of Learn.MachineLearning.
Under the partnership, DPhi will provide its free learning resources created by industry experts to 350K+ more AI enthusiasts via Learn.MachineLearning's community. These will be accomplished with the help of immersive community-led initiatives launched in collaboration with both teams. Chanukya Patnaik, the Founder & CEO of DPhi said "Since our inception, Learn.MachineLearning has been kind enough to collaborate with us and spread awareness about our initiatives. We are taking the next step in formally strengthening our partnership and looking forward to a deeper collaboration. Today, with the growing adoption of AI and data science applications in our daily routine, there is an urgent need to make data science education more impact-focused, equitable, and accessible. At DPhi, we are committed to bringing the best of data science education to our members for free. We don't look at education as a commodity but as a means to change lives, prepare us for the future, and unlock the true potential of individuals. With joint efforts, we strongly believe in creating 10x impact."

Until now, DPhi and Learn.MachineLearning were resolute communities aiming to solve a big problem. Now, they aim to become an unstoppable force working towards democratizing data science education on a global scale. As Learn.MachineLearning and DPhi together promise to bring unprecedented avenues of learning data science, they are happy to launch the first collaborative initiative – DPhi and Learn.MachineLearning Trailblazer Fellowship. More about it is below.