Data Science Wizards (DSW) and AI Planet have announced a strategic partnership to revolutionize AI with the UnifyAI platform and community-driven marketplace. This powerful collaboration will connect enterprises and AI communities to provide comprehensive AI solutions and develop innovative AI models.
"The true power of AI lies in the combination of community and enterprise. Our partnership with AI Planet will offer a comprehensive solution for AI that brings together the best of both worlds," says Sandeep Khuperkar, CEO & Co-founder of DSW. "By combining AI Planet's community-driven AI marketplace with DSW's UnifyAI platform, we will provide organizations with the capabilities and resources they need to take their AI initiatives from experimentation to production. This partnership will enable businesses to transform the way they work with AI, empowering them to achieve greater success and growth in the future.
At AI Planet, we believe in the power of the AI community to drive innovation and transformation for enterprises," said Chanukya Patnaik, Founder and CEO of AI Planet. "As the landscape of AI continues to evolve, it is crucial that we strive towards a future where AI development is accessible to organizations of all sizes and across industries. We are happy to collaborate with Data Science Wizards in pursuit of our shared mission to democratize AI and make it accessible to everyone. Our partnership with DSW and the UnifyAI platform will help organizations to tap into the community-driven marketplace, providing them with access to the best AI resources and support available. Together, we aim to empower organizations to harness the power of AI and drive their businesses forward with confidence and strengthen the AI community."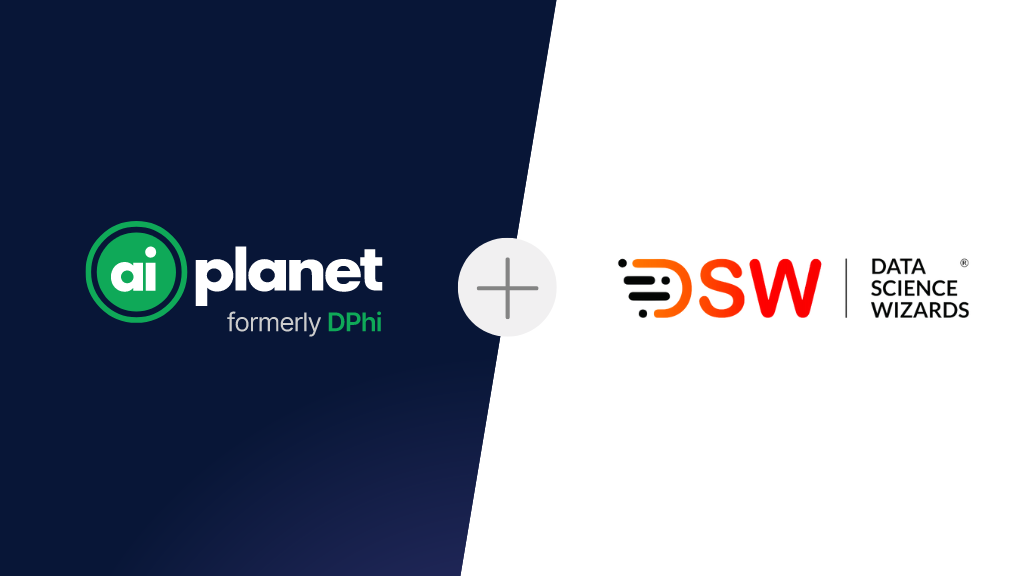 "The partnership between DSW and AI Planet provides an exciting opportunity to connect enterprises and the AI community for mutual growth," said Pritesh Tiwari, Chief Data Scientist & Founder at DSW. " The joint offering will help organizations to overcome the challenges faced in their AI Journey and effectively implement the same, positioning both companies as key contributors to the advancement of AI and data science."
The joint offering intends to simplify AI adoption, enhance expertise in AI and data science, and provide access to pre-verified AI models. The partnership will help organizations overcome challenges in AI adoption and effectively implement AI solutions, positioning both companies as leading contributors to the advancement of AI and data science.
About DSW 

DSW, specializing in Artificial Intelligence and Data Science, provides platforms and solutions for leveraging data through AI and advanced analytics. With offices located in Mumbai (India), and Dublin (Ireland), the company serves a broad range of customers across the globe. 
Its mission is to democratize AI and Data Science, empowering customers with informed decision-making. Through fostering the AI ecosystem with data-driven, open-source technology solutions, we aim to benefit businesses, customers, and stakeholders and make AI available for everyone.
DSW's flagship platform 'UnifyAI' aims to streamline the data engineering process, provide a unified pipeline, and integrate AI capabilities to support businesses in transitioning from experimentation to full-scale production, ultimately enhancing operational efficiency and driving growth.
About AI Planet
 AI Planet is a global ecosystem with the vision to educate and build AI for everyone. Founded in 2020, AI Planet has offices in Leuven (Belgium), Hyderabad (India) & Luxembourg. 
 With over 300,000 community members, AI Planet's community is a place where one can learn data and AI skills for free from industry experts. At the same time, its community-driven AI marketplace has ready-to-use AI models built by the best data scientists worldwide. It is envisioned to build AI to solve key challenges in health care, education, agriculture, and financial services and gradually extend to other sectors. 
 At its core, AI Planet's mission is to shape the future and solve key challenges of humanity with its thriving community of AI experts and enthusiasts.  It currently has strategic partnerships with government innovation agencies, including Luxembourg Government's Fit4Start & Belgium Government's VLAIO & Start-up Chile, as well as key acquisitions such as Learn.MachineLearning with its commitment to giving back to the community and bringing innovative solutions to the world.